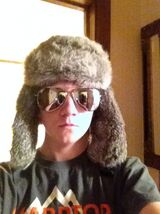 Legion is a troll on the shoutbox. He is assumed to be in cahoots with moonman. He hates jews
Political Views
Edit
He is believed to practice Nazism. He demands respect for thoose with PTSD. He thinks everyone unlike should be put on gas.
People's response to his trolling
Edit
People get very mad and frustrated when he trolls, he was taught in the ways of trolling by Belo and now is his student in trolling. He isnt on often due to playing on steam and because of the stupidly of people on FDC
He plays dayz and rust. He goes by mr. snuggles. He trolls when he has time and doesnt mind getting banned if he gets a good laugh.
Ad blocker interference detected!
Wikia is a free-to-use site that makes money from advertising. We have a modified experience for viewers using ad blockers

Wikia is not accessible if you've made further modifications. Remove the custom ad blocker rule(s) and the page will load as expected.